Do Companies Need Homepages Anymore?
Do Companies Need Homepages Anymore?
From the very first days of the web, people have speculated that discovery will eventually kill the homepage. The reasoning goes that as online discovery becomes more sophisticated at understanding semantic requests, it will suggest more specific results. In the end, the semantic web will take people directly to relevant sub-pages and bypass the homepage, making it irrelevant. That may be exactly what has happened to the New York Times. Since 2011, their number of homepage visitors has dropped by more than half. According to an internal report leaked online, the paper declared, "Our homepage has been our main tool for getting our journalism to readers, but its impact is waning. Only a third of our readers ever visit it."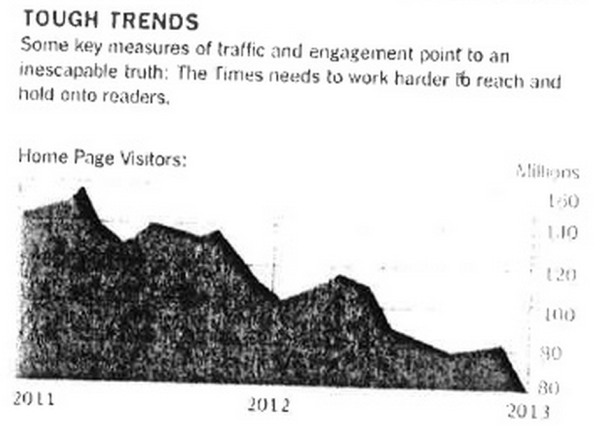 A convergence of trends in more mobile, social and local Internet usage has turned the traditional homepage into more of an obstacle than an index. Word of mouth referrals and social discovery through news feeds are now far more important as sources of unique visitor traffic than a keyword-heavy homepage.
As identity-powered experiences and social tools make traditional homepages more and more obsolete, here are three ways businesses can tailor their user experiences to optimize for this trend.
1. Drive more social referral traffic.
Last year, Pew Research confirmed that one third of adult Internet users under 30 are getting their information from what their friends are posting on social networks rather than from traditional business homepages. As social becomes more deeply integrated into the digital experience, it's clear that it also accounts for a good amount of site discovery and traffic.
Make it simple for readers to share site content using their preferred social channels in order to increase referral traffic. Spend more time on crafting compelling headlines and high quality graphics to master the two most effective components in improving social shares.
2. Improve SEO with social signals.
Google is by far the leading search engine available, granting better search rankings to those companies with improved SEO due to social signals. Mentions, reposts, shares and conversation starters signal relevance to the new algorithms, which equates to better placement. For example, one recent study showed a ranking improvement of more than 14 percent after adding 100 Google+ followers. This is in addition to the SEO benefits that have always come from user generated content (UGC) such as forum posts, comments, video uploads and surveys.
Optimize for SEO by making it easy for users to leave unique UGC on your site through ratings and reviews, comments, and more. Not only does the ability to leave UGC facilitate community and trust among your user base, it's also proven to increase conversion rates by 105%.
3. Enable social logins and tailor your emails.
Consumers both expect and crave personalization. Tailored emails are becoming an important point of entry for landing pages on websites. The first step in generating these hyper-personalized emails, however, is by enabling social logins. Allowing visitors to register using social logins is a win-win. For users, it eliminates the time and effort of registration. For companies, social login enables access to users' email addresses, interests, preferences, and more.
Take, for example, a new user registering on a sports fan site using Facebook. After authenticating the user's Facebook profile, the company can discover from the user's profile that they are a fan of the Miami Heats. Upon knowing this, the company can port this data into its email marketing system to send a tailored email to that user with photos and links to purchase Miami Heats' merchandise from its ecommerce shop.
The Homepage, Remade.
The homepage can't really die, because it fulfills such an essential role in the structural organization of a company's online presence. However, it will have to start taking on new functions in the increasingly mobile world. In a blog titled The End of the Homepage, Redfin CEO Glenn Kellman wrote, "And the poor old homepage will either become personalized, socialized or bypassed entirely."
It's now clear that personalization is the answer. In its next incarnation, the homepage will have to be tailored on the fly to align with individual preferences. Businesses are already searching for creative ways to re-imagine their homepage as a channel to generate the kind of personal UX that consumers have come to both crave and expect.